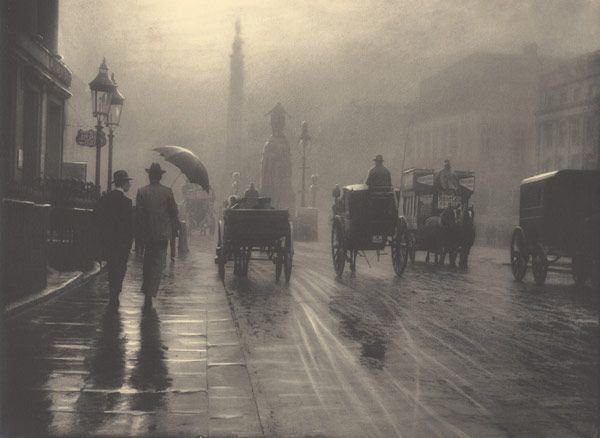 There is something magical to me about  pictorialist photography, particularly urban pictorialism, as shown here in Leonard Misonne's accomplished example from 1899.  I shoot with film as well as with digital cameras and appreciate the pictorialist's complete mastery of the medium.  In addition to having the skill to take photographs with the cumbersome and slow equipment of the time, the pictorialist's vision was realised through a complex process that required yet more skill and talent.   Dark room manipulation including the combining of multiple negatives; the use of artisan emulsions; alternative printing methods using gum bichromate and gum bromoil; the use of paint brushes and hand made paper were all techniques used to convert the camera into something closer to a paintbrush.  In addition to giving the pictures their unique look, these techniques also ensured that no two prints looked identical, even if they came from the same negative.
But is it Art?
From its inception when it took a mastery of optics, chemistry, and an arcane workflow to take and process a photograph there had been a debate about the nature of photography.   Was this new invention only capable of reproduction or could it transcend its machine origins and produce art?   In the early years of its development, photography was sometimes looked down upon as purely mechanical, but as early as 1853 the English miniaturist Sir William John Newton was championing the cause of photography as art.  Newton suggested that photographers could make their pictures more like works of art by throwing the subject slightly out of focus and using retouching techniques.
In the cause of art, early photographers had begun to combine multiple negatives to make a single print.  In both objective and method this broadened the scope of photography well beyond mechanical reproduction. In 1857 Oscar Gustav Rejlander  produced a 31-by-16-inch image by joining 30 negatives together.  The picture described a religious allegory and had the purpose of demonstrating the aesthetic possibilities of photography.
Peach Robertson's Pictorial Effect
Rejlander's work inspired Henry Peach Robinson, a British photographer who had previously trained as an artist.  He achieved fame with his five-negative print of 1859, Fading Away, depicting a young consumptive dying in her bed surrounded by her family.  Perhaps unsurprisingly, the tableau caused controversy due to the photograph's highly artificial technique and morbid subject matter, though critics were less concerned with the picture's staged theatricality than questioning whether a single picture from multiple negatives made photography untruthful.
Robinson, a member of the Photographic Society, published his manifesto Pictorial Effect in Photography in 1869.  The work, which gave the movement its name, included compositional formulas taken from a handbook on painting and made the case that rules created for one art form could apply to another.
In the 1880s the British photographer Peter Henry Emerson proposed an alternative artistic vision for photography.  His vision was that photographs should reflect nature and be produced without the artifice of retouching, combining multiple images, or using staged settings. He believed that tone, texture, and light were enough to make photography an art form.  This point of view became known as naturalistic photography after the publication of his treatise Naturalistic Photography in 1889.
At the same time, the introduction of the point-and-shoot Kodak camera, together with printing as a service, greatly accelerated the popularisation of photography.  This only intensified the public debate about the role of the medium, which reached its peak by the end of the century.
What is Pictorialism?
The pictorialist photographers produced pictures that were the polar opposite of the output of point-and shoot.  They used soft focus techniques, a  range of darkroom techniques and alternative printing processes to produce beautifully rendered, skilfully composed, highly picturesque, atmospheric and often otherworldly images.  These were hand printed (usually on hand-coated artist papers) using artisan emulsions and pigments, making the production of an image much closer to the creation of a painting.
The movement sometimes goes under other names including "art photography", "Impressionist photography", "new vision, and "subjective photography.
Pictorialism was closely linked to influential artistic movements such as Tonalism and Impressionism, and the Pictorialists took inspiration from popular art, adopting its styles and ideas to demonstrate that photography was an artistic process.
The emergence of Pictorialism was also the product of the meeting of photography and art in practical terms.  Artists started to use photographs to capture images that would be rendered as paintings later, whilst some pictorialists had been trained as painters.
There are a variety of definitions of Pictorialist photographs but it is perhaps easier to review what pictorialist pictures have in common.  Landscape photographer Sandy King (who still works with 19th century hand made photographic processes) offers an excellent description of the characteristics of Pictorialism:
Only images which show the personality of the maker, generally through hand manipulation, can be considered works of art
An interest in the effect and patterns of natural lighting in the outdoor landscape
An impressionistic rendering of the scene, in which overall effect is more important than detail
The use of symbolism or allegory to reveal a message
The use of alternative printing processes: carbon and carbro, gum bichromate, oil and bromoil, direct carbon, and platinum.
The Pictorialists
Some of the better known pictorialists are Alfred Stieglitz (1864-1946); Edward Steichen (1879-1973); Edward Weston (1886-1958); Paul Strand (1890-1976);  Julia Margaret Cameron (1815-79); Henry Peach Robinson (1830-1901); Peter Henry Emerson (1856-1936), Robert Demachy (1859-1936) and Leonard Misonne (1870-1943) who produced  the image which inspired me to write this post, Waterloo Place (1899).  Those with links are those I admire most.  In time I hope to write articles about each of them.  These photographers formed clubs and salons such as The Linked Ring, Photo-Secession, The Royal Photographic Society, The Photo-Club of Paris and The Trifolium of Austria all of which promoted photography as fine art.
The Decline of the Movement
The heyday of Pictorialism was from the 1880s to 1915.  Unsurprisingly for such a romantic movement it lost momentum after the World War I and was a spent force by the end of World War II.  It was superseded by the sharp focus of Modernism in Europe and the West Coast or Straight photography movement in the USA, the greatest exponents of which were Edward Weston and Ansel Adams.
Photography as Art
The ideas of Newton, Rejlander, Robinson, and Emerson's were not the same, but they were all pioneers for photography to be considered a legitimate art form.  This is a question that rarely crops up today, but for those who wish to ponder it I will supply two pieces of evidence in favour of photography as art.
The first is that in 1830 more than 300 miniature paintings were exhibited at the Royal Academy.  By 1870 only 33 were on display and photography had already replaced an art form.
The second is an example chosen from many possible options.  In 2011 a grey image of the Rhine by German artist Andreas Gursky sold for $4.3m (£2.7m) at auction, setting a new record at the time.  The grey and featureless landscape was described by the artist as an allegorical picture about the meaning of life.  That sounds like art to me.